All Cars I Designed and Built
Stewart GT 500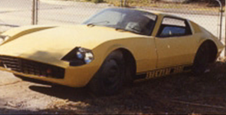 This was my first car that I designed and built. I was fascinated with Citroën in the early 1960s, saved money, found two in the paper when I was 15-years old, and had my father buy them for me and tow them to our home. There, I tore one apart down to its frame (shortening it by 20 inches) and suspension leaving the other one (a rare station wagon that I later restored and sold). I became entranced with the experimental 2-stroke Bourke engine and saved to buy this when I was in my late teens. I made a clay model, then a full-size mock up using plaster and plywood. From this I made molds that I pulled body pieces using fiberglass and used a Porsche 911 windshield and Mustang side windows. The car took about four years to build since I was still busy working part-time jobs for money, going to school for my degree in physics and dancing ballet every day. Unfortunately, the experimental engine shattered the second time we tried to move the car. Thus, it never ran on the road but it looked cool and was a learning experience. I never took an auto mechanic or body class; I just knew what to do. All of it seemed so logical.
Cleopatra Jones Corvette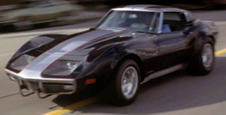 In the late 1960s and early '70s I worked part-time for an auto body shop in North Hollywood. I took ballet classes in the morning, went to college in the middle of the day, and worked at the body shop later that afternoon, returning at night to take another ballet class. The movie Cleopatra Jones commissioned five customized corvettes. The job began at a different shop and then finished up where I was working. I did very little on the cars but was exposed to that aspect of movie making.
Stewart GV13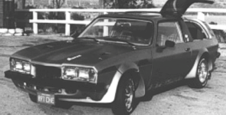 In the 1960s and '70s, many shops customized cars and there was a thriving industry of "kit" cars. I decided to make a cool looking car styled on a customized Ferrari, Lamborghini Espada front end, and Mangusta rear end but based on a Chevrolet Vega hoping that it would be a kit others would be interested in buying. Thus, I stripped a Vega to frame and engine, made a complete mock up that I pulled exterior and interior body pieces. The Plexiglas gull-wing doors were a major challenge. I finished it when I was about 26-years-old and toured it to many car shows across the country besides being in the background of a couple of TV shows. The engine was still a Vega engine but completely blueprinted with high-power cams, distributor, head, exhaust, and Weber carburetor. The power output was almost doubled. Wheels were reverse-rims Cragers and the interior was completely customized. Eventually I donated it to a non-profit for the tax write off.
Article and Letters
(Here are some letters that unfortunately not published by Road and Track or Car and Driver or Tesla. You may find them interesting. Click on them to download the document.)
June 6, 1998 about the need of the car culture to embrace diversity
Download for Free!
February 10, 2000 about the lack of acceptance by "Detroit" of LGBT people
Download for Free!
2014 letter to Tesla proposing a new kind of assembly and building of cars
Download for Free!