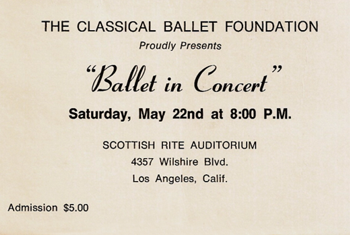 CBF was a California non-profit corporation located in Burbank in the early 1960s through to the late 1970s. Its purpose was to encourage classical ballet and to grow a Los Angeles based classical dance company.
I had studied ballet at a local dance school in North Hollywood with Jon Zerby (father of the actress Kim Darby) for four years. When I was sixteen, I was offered a scholarship with CBF that would allow me to take classes seven days a week. I immediately accepted the scholarship since I was determined to be a classical ballet dancer after seeing Nureyev and Fontaine in Romeo and Juliet. I became the lead male dancer for the troupe and expanded my duties by helping with funding and coordinating tours. Many of the girls that I met at CBF became life-long friends.
The videos were taken by one of the dancer's husband. We are grateful that he had the foresight to take these videos in the early days of home cameras. However, combined with poor stage lighting, the quality is often very poor. These are posted here mostly for historical purposes.
Although I am in most of the dances and videos (as lead male dancer), the red numbers in the mid-1970s (when I was 24-years old) are better quality. Enjoy.
Video Gallery