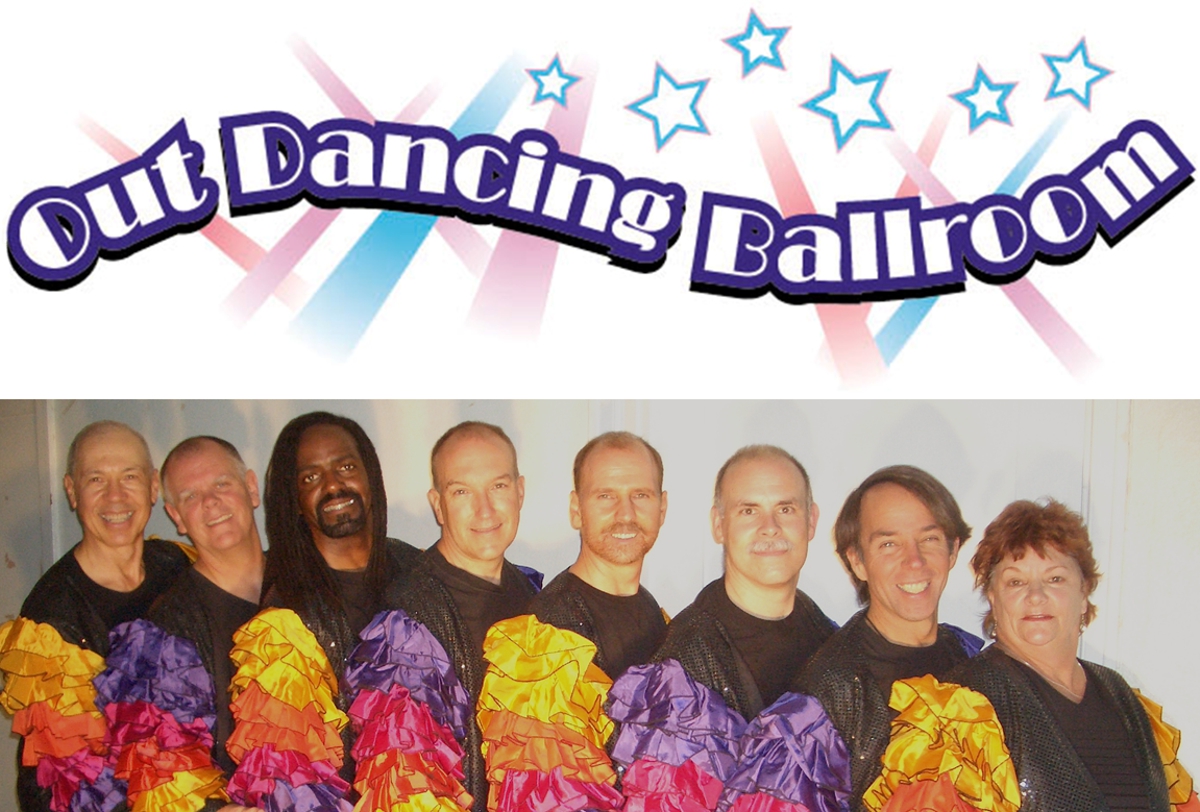 2005-2006 Member Line Up
Ruben, Chuck, Bill, Kris, Michael, David, Ben-Andy, and Judy in Cha Cha costumes.
Out Dancing Ballroom was founded by Chuck Stewart in 2000 to bring the delights of couple dancing to the LGBT community. The initial meeting garnered almost twenty men and women who helped launch the dance troupe. Over the next six years, until the end of 2006, we performed at every gay pride festival, rodeo, and many private events in Southern California from Los Angeles, to Long Beach, San Diego, San Bernardino, Palm Springs, and Las Vegas. It was lots of fun requiring real dedication from the dancers. The membership of the team changed over time but never less than eight dancers participated allowing us to have up to four couples on stage in certain numbers. Rehearsals were held at both Ripples in Long Beach and Crescent Heights Methodist Church in West Hollywood (since half the members lived in Long Beach and the other half in Los Angeles). We never missed a performance and were well received. Thank you all. We hope that, someday, another dance troupe will form that promotes same-sex couple dancing. As of 2015, same-sex couples are still prevented from competing at international ballroom competitions.
Repertoire
Dance
Song Title
Artist
Time
Choreographer
Count Sheets
West Coast Swing
Man I Feel Like a Woman
Shania Twain
3:54
Chuck Stewart, 2001
Count Sheet
Waltz
Jitterbug Waltz
Mandy Patinkin
3:49
Chuck Stewart, 2001
Count Sheet
Cha Cha
Jezebel
Ricky Martin
3:49
Arley Berry-Hill, 2001
Count Sheet
Tango
El Choclo
Carlos Ravel
3:12
Jeremy Box, 2002
Count Sheet
East Coast Swing
Sing, Sing, Sing
(with a Swing) from Swing Kids
Louis Prima
3:03
Jeremy Box, Arely Berry-Hill, and Chuck Stewart, 2002
Count Sheet
Hustle
I Will Survive
Gloria Gaynor
3:50
Jeremy Box, 2002
Count Sheet
Merengue
A quien le importa
Thalia
3:35
Chuck Stewart, 2004
Count Sheet
Country
Heaven Help My Heart
Wynonna Judd
4:41
Kris Williamson and Chuck Stewart, 2005
Count Sheet
Documents
If you are interested in some of the administrative side of running a dance company here are some documents. Click any document to review:
Press Releases:

Review:G&L Times February 2004
Articles:

Correspondence: A couple of correspondences with the troupe.

Performance History - Six Fun Years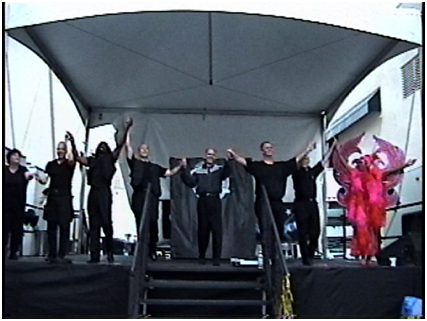 Farewell Bow at Valley Pride 2006
2006
10/08 Main Stage at LA Valley Pride--FAREWELL SHOW
08/05 LA Rodeo
07/04 Square Dance Convention in Long Beach
05/21 Main Stage at Long Beach Pride
04/29 San Diego Rodeo
2005
11/05-6 Palm Springs Pride
10/09 LA Valley Pride
09/25-26 Santa Barbara Pride
08/6-7 GSGRA-GLAC (L.A. Gay Rodeo)
7/30-7/31 San Diego Lesbian and Gay Pride
06/18-19 Christopher Street West (LA)
2004
10/16-17 LA Valley Pride
Oct? LA Uptown Gay and Lesbian Alliance at a theater in downtown L.A.
09/17-19 GSGRA-Greater San Diego Chapter (SD Gay Rodeo)
08/6-8 GSGRA-GLAC (L.A. Gay Rodeo)
06/19-20 Christopher Street West (LA)
05/22-23 Long Beach Lesbian & Gay Pride (with performances at Ripples)
04/02-3 Nevada Gay Rodeo (in Las Vegas)
2003
11/01 Palm Springs Pride
09/27 San Diego Gay Rodeo
07/26 San Diego Gay Pride
06/21 Long Beach Stepping Out Dance
05/31 San Bernardino Gay Pride
04/12 Los Angeles Gay Rodeo and Burbank Hilton
04/10 Oil Can Harry's Rodeo Kick-Off
03/01 Long Beach Stepping Out Dance
2002
Palm Springs Pride
San Diego Gay Rodeo
Long Beach Stepping Out Dance
Los Angeles Gay Rodeo
Ecstasy Cruise Line (see video)
Gay Men's Gathering
Up Town Gay Alliance
2001
San Diego Gay Rodeo
Los Angeles Gay Rodeo
Gay Men's Gathering
Up Town Gay Alliance
Valley Pride — INAUGURAL PERFORMANCE
PLUS many performances at private dances, bars, churches, etc. each year.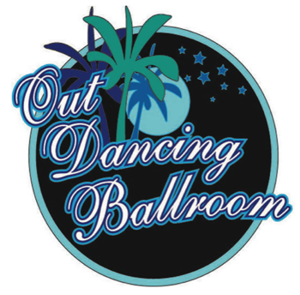 Dancers
Some dancers stayed with us the entire six years while others stayed a year or two. We thank everyone who brought his or her skills and commitment to the troupe.
Arley Berry Hill (2/2001-10/2003)
Ben-Andy Hein (2/2001-10/2006)
Bill Mitchell (9/2001-10/2006)
Bob Rodriquez (2-4/2001)
Buddy Spencer (2-5/2001)
Chuck Janac (2/2001-2/2004)
Chuck Stewart (2/2001-10/2006)
David Stokes (9/2001-10/2006)
Deborah Rose (9/2001-2/2003)
Derrick Sheldon (2-4/2001)
Dianne Gugel (4/2005-10/2006)
Elbert DuBose (7/2001-6/2003)
Fred Croci (4/2002-12/2002)
Gino Yambao (4/2001-11/2001)
Jeremy Box (9/2001-1/2004)
Jesse Tionko (7/2001-10/2003)
John Batchelor (2/2001-10/2003)
Judy Kadlub (4/2004-10/2006)
Karma Singer (9/2001-3/2004)
Kris Williamson (2/2002-10/2006)
Michael Hughes (2/2002-10/2006)
Ruben Collazo (7/2004-10/2006)
Sid Schier (2-4/2001)
Victoria Martinez (11/2001-2/2002)